Lamson Adventures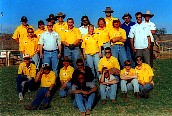 Lions Club Camel Cup 2000
On July 15th, 2000, on a sunny day in Alice Springs Australia, there was the Lions Club Annual Camel Cup race. This year, there was a new team. A team of Australian and Americans. Overall, they did very well. The highlight were riders Chris, Rick, and Craig who all won twice. There were some tumbles and some mishaps but the charity races went well overall. Three of the American races were hurt, luckily not seriously. A shoulder injury, a groin and back, and a bruised hip.

At the end of the day, the Camel Polo game was won by the Australians with an ending score, well, who knows. In the end, American, Angela, tried to out maneuvered Australian Tobi, but ended up face down in the dirt. At the Awards, the highlight was seeing U.S. and Australian Champion, Michelle Gargan, up getting another win to her impressive race record.

I think with the impressive training of Outback Safaris, the joint Australian/American team will be back next year to show the regulars some new tricks.
Home || Camel Cup Training || 1999 Camel Cup Race
If you have comments, suggestions, or questions about these places, email me
at lamsons@lamsonadventures.itgo.com or Sign my Guestbook
You are vistor number since May 1st, 1999
on the Lamson Adventures Site!!!! Thanks